Fibromyalgia sufferers, listen up: It's no secret that forgetfulness is one of the many symptoms of chronic pain syndromes.  "Brain fog" makes it hard to remember important schedules, to-do lists, and…what was I going to say?  You have enough on your plate without having to worry about whether or not you took all your fibromyalgia pain medications, what time the pharmacy opens, or what website you used to order your vitamin refills.
If you've got an iPhone or iPad, then use it to your advantage!  Here are some great tricks that let you get the most chronic pain management out of your iPhone, iPad, or iPod without spending a cent.
Trick #1: Pimp your home screen!
Dilemma: "My favorite website doesn't have an app!"  Let's say that you like a website, and you use it often to order vitamins, prescription refills, or other necessities that you can't live without.  You want to be able to access this site immediately from your iPhone home screen…but there isn't an app for that. You can make your own custom icon and stick it on your home screen!  Here's how it's done:
Go to your favorite page.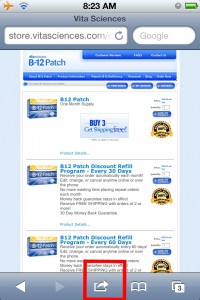 Click on the arrow at the bottom of the screen.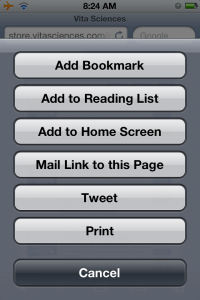 Now, choose "Add to Home Screen."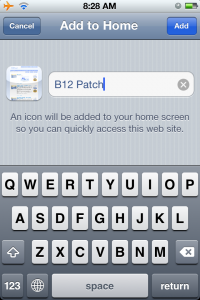 The official title of the home page is Vita Sciences but you can change it; just remember to keep it short and easy to identify.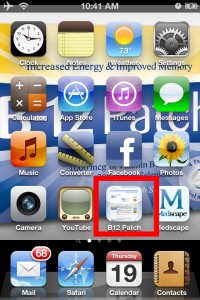 That's it! Now you have a shiny new custom-designed icon on your home page that you can't get at the iTunes store. This is a great trick that you can use for any and all websites.  Use it for pages that you use often, or just for something that you want quick access to in case of emergency. Pretty nifty, huh?
Trick #2: Set up vitamin and medication alerts!
The iTunes app store offers lots of daily reminders that are inexpensive.  You can track everything from your menstrual period, to your food diet points, to your bill schedule.  Sure, you could buy a pill reminder for 99-cents, but why bother? Your iPhone already came with an excellent calendar, and it's just humming to remind you to take your pain medications, vitamin supplements. You don't have to be a rocket scientist to program it, either.  Here's how: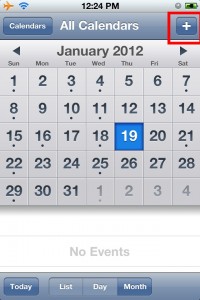 Go to your calendar.  Click the "+" sign at the top right corner to add an event.  (Question: When did remembering to take your pain medicine become an event? Answer: Since brain fog became one of the symptoms.)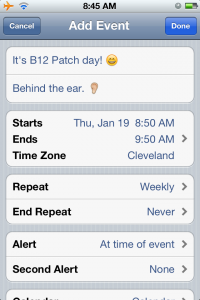 Okay.  Type in all the important details, like name of event, location (Behind the ear), repeat sequence (weekly), and most importantly, alert time.  Steve Jobs must have foreseen that fibromyalgia patients would need to use it, because he cleverly programmed two alerts to remind you to take your vitamins; one initial reminder, and then another one, in case you already forgot the first warning. This is an essential tool for people who are forgetful, which is anybody who suffers from:
Fibromyalgia
Pernicious anemia
Vitamin B12 deficiency
Chronic fatigue syndrome
Alzheimer's disease
Motherhood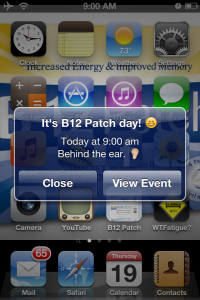 And here's your gentle reminder to take your vitamin B12!
Trick #3: Get these great apps!
Here are some free iTunes apps that are worth a second look:
This is the Chronic Pain Tracker Lite: This free app lets you document your pain history in a way that is simple and functional.  You can keep track of pain triggers, pain severity, location of pain, medications, and even add your own personal notes. This free version allows you to list up to 20 entries.  If you really like it, then you can get the paid version for $14.99, which is still cheaper than getting a health coach.
Also free, the Medscape app is a great tool for accessing up-to-the minute information on pain treatments, breakthrough scientific research, and common pain symptoms.  It's like having a medical encyclopedia in your pocket, only much lighter. 😉
Trick #4: Use Google Maps to find your nearest pharmacy- quick!
Google Maps is another excellent iPhone tool for people who have trouble remembering where their closest pharmacy is, even if you've been using them for prescription refills for the past 15 years.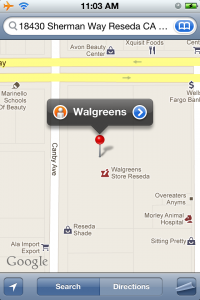 Bingo!  I knew Walgreens was somewhere around that neighborhood, give or take a few miles.
Trick #5:  Follow the leaders on Twitter!
Finally, you don't like to be in the dark.  24-7, people are talking about things that importantly impact your life; things like
9 Conditions that Mimic Fibromyalgia and Vitamin B12 Deficiency.
You want to join in on the conversation, and be "in the know," right?  The best way to do that is to follow them on Twitter.  This way, if the Fibromyalgia Society decides to coordinate an impromptu Occupy Fibromyalgia sit-in, you'll be one of the first to respond.
We won't be leading any protests any time soon, but we do keep you informed on the many topics related to vitamin B12 deficiency, like pernicious anemia symptoms, gastrointestinal disorders, gastric bypasses, diabetes, chronic fatigue, autoimmune disorders, and of course, fibromyalgia.