Gluten Free Diet-Safe Halloween Treats– Before buying Halloween treats for kids with Celiac disease symptoms, see our gluten-free candy list for October 2011. Following a gluten-free diet couldn't be easier, even if your family suffers from autoimmune disease or gluten allergy.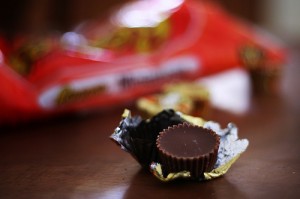 Gluten Intolerance Symptoms
People with Celiac disease or other gluten intolerance symptoms must follow a gluten-free diet.  Gluten, a protein found in wheat, barley, and rye, is a common ingredient in most baked goods, snacks, and other packaged foods.  Symptoms of Celiac, an autoimmune disease, include stomach cramps, diarrhea, bloating, constipation, and vitamin B12 deficiency.
6 Food Cravings that Signal Vitamin Deficiency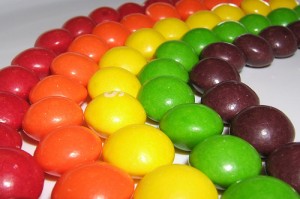 Gluten-Free Halloween Candies for October 2011:
Gluten Free Candy Corn
Look no farther than the Jelly Belly candy display for the tastiest candy corn!  Jelly Belly makes delicious assorted jellybeans and other candy confections that are (mostly) gluten-free, dairy-free, gelatin-free, vegetarian, and OU Kosher.  For a list of Jelly Belly products to avoid this year, see Avoid these NOT Gluten-Free Halloween Candies, below. Get their Halloween Fun Pack for $4.99.
Gluten Free for Chocolate Lovers
The following chocolate bars and chocolate confections are safe for people with gluten intolerance and wheat allergies:
Baby Ruth bars
Butterfinger Original only
Hershey's Kisses
M&M's
Reese's Peanut Butter Pumpkins
Snickers bars
York Peppermint Patties
3 Musketeers bars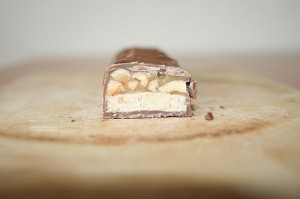 Gummy Candies, Jelly Beans, and Chewy Candies- Nom, Nom!
These stick-to-your-teeth candies are soft, chewy, and sticky-sweet.  Best of all, no gluten!
Black Forest Gummies, including Gummy Werewolves and Gummy Vampires
Mike and Ike
Peeps Ghosts Marshmallow Candy
Starburst Fruit Chews
Tootsie Midgees
Skittles
Welch's Fruit Snacks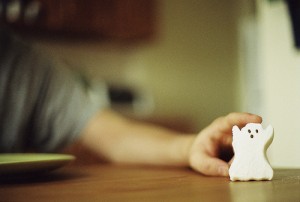 Lollipops and Hard Candies
Which lollipops are okay for kids with Celiac disease?  These hard Halloween candies are guaranteed to be free of gluten.
Charms Flat Pops
Spangler Dum-Dums and Saf-T-Pops
Lifesavers individual flavors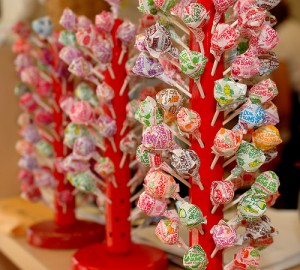 Avoid these NOT Gluten-Free Halloween Candies:
Chocolate Bars to Pass on
Nestle 100 Grand Bar
Nestle Crunch Bar
Original Milky Way Bar
Butterfinger: Butterfinger Crisp Bar, Butterfinger Giant Bar, Butterfinger Snackerz, Butterfinger Medallions, Butterfinger Jingles, Butterfinger Hearts, and Butterfinger Pumpkins
Mars Bar
Hershey's Miniatures
Hershey's Symphony Bar
Hershey's Nuggets
Hershey's Mounds
Hershey's Almond Joy
Don't Chew on These
Wonka Nerds (most flavors)
Jelly Belly– assorted bridge mixes, chocolate malt balls, and licorice buttons and pastels contain gluten.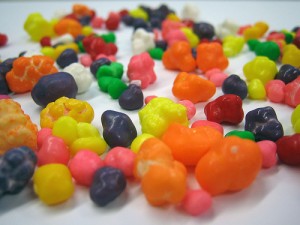 Don't see your favorite candy maker listed here?
Don't panic!  Check this extensive gluten-free Halloween candy list for October 2011.
Related Reading:
Gluten-Free Fall Food- 6 Easy Celiac-Friendly Recipes
15 Gluten-Free Glitterati, from Aniston to Zooey
10 Best iPhone Apps for Celiac Disease, Part 1
10 Best iPhone Apps for Celiac Disease, Part 2
Sources:
2011 Gluten-Free Halloween Candy List- myGlutenFacts
Gluten-Free Candy, as of October 2011
Gluten Intolerance Symptoms – Celiac Disease Symptoms – Wheat Allergy Symptoms
Images:
ginnerobot, Muffet, *Micky, Like_the_Grand_Canyon, Theresa Thompson, oelogon, regenmond