Packing lunches for people with celiac disease or gluten intolerance can be costly.  Bento boxes are the perfect venue for restrictive gluten free diets.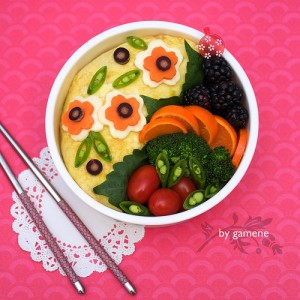 Why Gluten Free?
Celiac disease is an autoimmune disorder that causes damage to the intestinal linings, specifically in the presence of gluten, a protein found in grains such as wheat, barley, corn, rye, spelt, Kamut and triticale.  For that reason, people who suffer from celiac disease are required to follow a gluten-free celiac disease restrictive diet.
Gluten can lurk in many baked goods, packaged food items, and condiments.  Although many food items carry "gluten-free" labeling, the best way to avoid accidentally consuming gluten is by checking ingredient labels carefully, checking also for gluten cross-contamination warnings.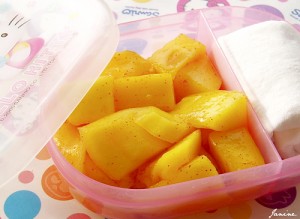 Who Else Eats Gluten-Free?
Other people who follow gluten-free dieting are individuals who are allergic to gluten, and others who suffer from gluten intolerance.  Also, many parents of autistic children find that gluten-free foods agree better with their children's digestive system.  Increasingly, more sufferers of fibromyalgia claim that switching to a gluten-free diet has alleviated many of their pain symptoms.
Why Go Bento?
Bento is the Japanese version of a brown-bagged lunch, only much healthier…not to mention, better for the environment.  Bento boxes are easy to find, but if you don't feel like ordering a Hello Kitty bento box for your celiac kiddo, don't worry.  In a pinch, you can utilize standard Rubbermaid or Ziploc brand containers for your bento boxing needs.
The many benefits of bento boxing are too numerous to count, but let's try:
1- Perfect pair. Bento boxing and gluten-free dieting is a match made in heaven.  Traditional Japanese cuisine already contains foods that are compatible with celiac disease dieting.
2- Portion controlled. The number one strategy for any diet is controlling the amount you eat.  Bento boxes contain sectioned food trays, allowing for perfect food group rationing, for you portion control freaks out there.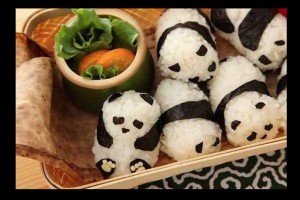 3- Pleasing to the eye. Tasty food alone doesn't suffice for your fussy eaters; it should look good, too.  Studies prove that people "taste with their eyes" before they take that first bite.  Popular bento treats include rice balls (onigiri) and molded eggs, formed with fun animal-shaped molds, and veggies or fruit in appealing cookie-cutter figures.
4- Planet-friendly. By using a bento box, you cut out a substantial amount of waste, including brown bags, sandwich bags, plastic forks, and paper packaging
5- Pocket-friendly. Let's not forget, you save a ton of money when you go bento.  Where a typical lunch may cost upwards of $20.00, a prepackaged bento boxed lunch will only run you a couple bucks, especially if you utilize last night's dinner leftovers.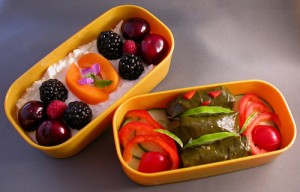 Read More about Gluten-Free Diets:
Gluten-Free Bento Boxed Lunches for Celiac Dieting, Part 2
Celiac Summer, Part 1:Plan a Fun and Gluten-Free Disney Vacation
Celiac Summer, Part 2: Gluten-Free Road Trippin'
15 Gluten-Free Glitterati, from Aniston to Zooey
References:
What's for Lunch? Enter the Bento Box, a Touch of Japan NY Times
Gluten-Free Bento Boxes: No More Paper Lunch Bag! Hazel Brown
6 Tips + 75 GF School Lunch Ideas = Happy Kids Gluten Freeville
Cute Food- The Adorable, Edible Art Of Kawaii Cooking Kawaii Bento Club