Vitamin B12 increases stamina, restores mental alertness, and promotes healthy muscle tone.  To maximize on the benefits of vitamin B12, you need to eat plenty foods that have vitamin B12 every day, preferably totaling 1000 mcg of vitamin B12 per week.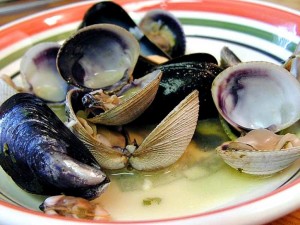 Foods that are rich in B12 include meat, poultry, fish, eggs, and milk.  But what if you choose to follow a vegetarian or vegan diet?  Are there any natural vegan sources of vitamin B12?
Judge for yourself -see our no-nonsense list of foods that provide maximum vitamin B12.
How much vitamin B12 do I need?
According to the current RDA, you only need one or two mcg of vitamin B12.  However, that amount doesn't suffice for people with vitamin B12 deficiency, or people who need extra B12 for energy, sports endurance, or mental focus.
To avoid getting B12 deficiency, or just to boost stamina and promote well-being, many scientists recommend taking between 1000 mcg -3000 mcg of vitamin B12 per week.  (Read  Will Vitamin B12 Boost Energy if I don't have B12 Deficiency? YES!)
Which foods have the most vitamin B12?
Vitamin B12 naturally occurs in protein foods like beef, chicken, fish, shellfish, eggs, and dairy products.  If you follow a diet that excludes meat, fish, and milk, such as a vegan diet, then you may opt for plant-based foods that are infused with vitamin B12.  To get enough B12 to avoid deficiency, you might need to supplement with extra vitamin B12 as well.
How many clams do I have to eat?
Here is the nutritional data for foods that are rich in vitamin B12, starting with the highest- clams.
Clams
One 3-ounce serving of cooked clams contains 84.1 mcg of vitamin B12.  To get to your weekly dose, you would have to eat 11 servings of cooked clams each week.  Hope you've got recipes!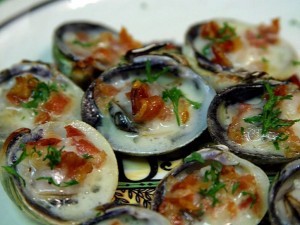 Liver
After clams, liver is the richest source of vitamin B12.  A 3-ounce serving of cooked lamb liver contains a whopping 72.8 mcg of vitamin B12.  You would have to eat nearly 14 servings of liver pate each week, or 2 servings per day, to get the most vitamin B12 for your money.  Want onions with that?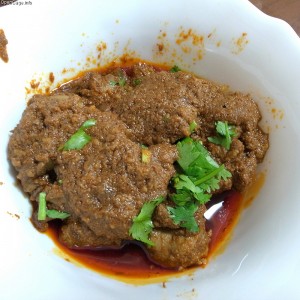 Fish eggs
Caviar is usually savored in small doses, but to get 1000 mcg of vitamin B12 from this luxurious treat, you would need to eat 17 3-ounce servings of whitefish eggs each week.  Don't forget the crackers.
Octopus
In some countries like Hawaii and Japan, octopus is a common staple, much like burgers and fries in the US.  Three ounces of cooked octopus provides about 30 mcg of vitamin B12.  To reach 1000 mcg, you would need to eat 33 helpings of cooked octopus.  (Unless you prefer your octopus raw, in which case you would need to eat about 58 servings of octopus sushi each week.)
Mackerel
Among the finned creatures of the sea, mackerel is the fish that has the most vitamin B12, at 19 mcg per 100 grams.  That's 52 weekly servings of fish per week.  (Can you say Holy Mackerel?)
Beef
Let's face it- most of us don't eat a lot of seafood or beef liver.  Most of your dietary stores of vitamin B12 are probably going to come from good old-fashioned beef.  (It's what's for dinner.)
Choose lean cuts of beef- not only are they healthier for your heart, but they also contain the richest amounts of vitamin B12 on the butcher aisle.  Lean beef chuck shoulder contains 5.25 mcg of vitamin B12 per 3-ounce serving.  To get even close to 1000 mcg of vitamin B12, you would need to eat over 80 beefsteaks per week. Hope you like chewing!
One double-cheeseburger contains 2.1 mcg of vitamin B12.
One cup of low-fat milk has 1.2 mcg of vitamin B12.
A serving of low-fat yogurt has 1.1 mcg of vitamin B12.
A beef taco has 0.9 mcg of vitamin B12.
One hard-boiled egg contains 0.6 mcg of vitamin B12.
Coming next: What about vegan vitamin B12?
Please tell us…
How do you get your vitamin B12- from supplements in pill form, vitamin B12 shots, or otherwise?
We'd love to hear from you- please feel free to leave your comments!
Spread the love…
Please share this article with your friends, family, or anybody you care about!
Read more about vitamin B12 in food:
Vitamin B12 for Weight Loss- Why it Works
9 Vitamin Deficiencies and the People who are affected by them
B Vitamins prevent Cardiovascular Disease- B6, B12 and Folate
Sources:
Top 10 Foods Highest in Vitamin B12 (Cobalamin)
Dietary Supplement Fact Sheet: Vitamin B12 Health Professional Fact Sheet
Images:
opencage, public domain images